Home Theater

The following audio and video components are required in any home theater:
Video/Television- preferably 35" or largerSpeakers- At a minimum you will need the following to reproduce 5.1 recordings: front left, front right, center, left surround, right surround, powered subwoofer; Additional speakers will be required for some of the newer formats, such as 6.1 and 7.1Home Theater Receiver- includes amplifiers for at least 5 channels, surround sound processor/decoder, and AM-FM tuner

Audio/Video Signal Source- any combination of HiFi VCR, DVD Player, Laser Disc Player, cable or satellite source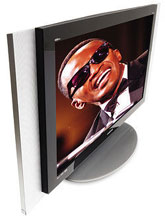 Samsung LTP468W LCD HDTV
By the time you read this, Samsung's claim that their 46-inch LTP468W is the largest LCD flat-panel TV with 1080p capability will surely have been broken, perhaps by Samsung themselves. In the frenetic flat-panel HDTV category, new models seemingly appear in stores on a monthly—nay, weekly—basis. Samsung is chasing the flat-panel crown with a slew of offerings, in both the LCD and plasma categories, wowing visitors to their CES 2005 booth with dozens of new models, including a 102-inch behemoth.
The Holy Grail of HDTV resolutions is 1920:1080 progressive, the top of the 18 ATSC-designated formats that form the digital-TV specification. Just as progressive-scan DVD players provide a better-looking picture than their interlaced counterparts, 1080p promises to eliminate the jagged-line artifacts that are the inevitable by-product of any form of interlaced display. Virtually all fixed-pixel displays—LCD, DLP, LCOS, or plasma—don't form interlaced or progressive images...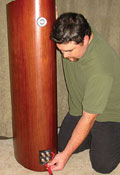 B&W 803D Speaker System
If truth be told, I have little use for diamonds in their conventional form. This probably stems from all the pomp and pageantry that surrounds them—not to mention my disdain for those people who drape themselves in the stones and attempt to outshine everyone else with their brilliance. This hardly means that I have little respect for diamonds, though, even if this respect is far more about material than materialism. Since ancient times, mankind has recognized the value of the diamond for pragmatic applications, in everything from grinding and engraving tools, to drill bits, to turntable styli and semiconductors.