ViewSonic N3200w LCD HD Monitor - Adrienne Maxwell, April, 2005
A tale of two inputs.
The entrance of computer companies like Dell and Hewlett-Packard into the HT space has raised a few eyebrows. Will the computer giants drive home theater prices down into the realm of computer componentry or, instead, drive themselves out of the HT arena?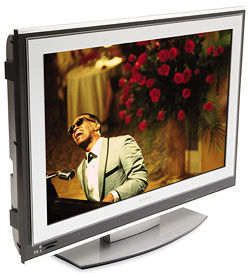 ViewSonic has flown under the radar, adding reasonably priced TVs and speakers to their lineup. Perhaps the company's past success with CRT and LCD monitors has caused the HT pundits to grant them a "get into the HT realm free" card.
The N3200w is a 32-inch, 1,280-by-768 LCD TV with an NTSC tuner, front-panel memory-card readers, and two detachable 12-watt speakers. The input set is limited but covers the necessary bases. I focused on the DVI and component video ins for my testing, but, when my computer monitor died, I turned to the N3200w's VGA in for some emergency assistance. The VGA and DVI inputs were so close together that I couldn't plug in the two cables at the same time. ViewSonic says that they could use both inputs at their facility; but, using average-sized DVI and VGA cables, I didn't have the same experience with my review sample.
No Self Control
If you plan to stick with component video for your A/V sources, I've got some unfortunate news. The N3200w's gray scale measures extremely blue, and faces looked consistently sunburned through the component video input. There are no color-temperature settings or gray-scale adjustments to create a more-accurate image. Basically, what you see is what you get.
This TV is very bright. I could easily see the picture in a room with every light on. In turn, the black level is quite high, which results in grayish blacks and, despite its brightness, a contrast ratio of about 450:1.
The N3200w is quite detailed with both DVD and HDTV sources; slower-moving images like those in a Discovery HD Theater nature special or prime-time HDTV show can look very good, provided you sit at a reasonable distance. Otherwise, you'll notice a general noisiness that makes static images seem to crawl. Also, motion blur was an issue with fast-moving sports programming. As the action sped up, the noise and blur didn't make good companions.
The picture's noisiness might be caused by quantization error. Video Essentials' quantization test revealed noticeable steps from light to dark, not a smooth, continuous transition. Chapter 5 of Chicago provides a nice test of a display's ability to move from light to dark, as it features dancers in a dark room moving through spotlights. With the N3200w, those transitions weren't smooth; rather, they looked quite digital and noisy.

Processing likely wasn't a culprit in the noise problem, as the N3200w had some of the best processing I've seen in a display. It passed all of our film- and video-based tests, from the Snell & Wilcox Zone Plate test on Video Essentials to the waving flag and racing sequences of the Silicon Optix demo disc to the rooftops in chapter 12 of Gladiator.
Last but not least is the issue of brightness uniformity. Because an LCD's backlight is always on, it's difficult to block all of the light, which can sometimes leak irregularly onto the screen. When I put up a black image on the N3200w, I saw several patches of light on the screen. This isn't noticeable when you're watching a bright, colorful image. In a dark scene like the opening of Master and Commander, it's distracting, as if someone is shining a light on parts of the screen.
Make the Switch
While using the DVI input wasn't a panacea, many of the above issues were either eliminated or lessened when I switched inputs. The DVI input has four color-temperature settings, plus global red, green, and blue controls. Through these, I rendered an accurately colored picture in which skintones looked natural, and colors were rich.
Black level was still a concern, but the DVI input does pass below-black info (the component in doesn't), which makes it easier to set the black level as low as possible without compromising the rest of the picture. Through the DVI in, the contrast ratio improved to about 550:1. Transitions from light to dark were smoother than they were through the component input, which helped ease the noise problem. Seated at a distance of seven times the picture height, I didn't find the noise to be a distraction. Still, sports and gaming enthusiasts might consider other technologies.
In a well- or moderately lit room, the combination of the N3200w's high brightness, accurate colors, great processing, and excellent detail through the DVI input produced a very enjoyable image with both DVD and HDTV sources. Of course, the N3200w only has one DVI input; if you have multiple DVI sources, you'll have to buy a DVI switcher or manually switch the cable between your source components.
The black level and brightness uniformity issues don't make the N3200w the ideal choice for a dedicated home theater, but it's a solution for someone who wants to introduce higher-end sources to the rest of the house.
Highlights
• Creates a bright, detailed, accurate image through the DVI input
• Excellent processing
Features
Type: LCD
Screen Size (diagonal): 32 inches
Native Resolution / Aspect Ratio: 1,280 by 768 / 15:9
Lamp Life: 50,000 hours
Wall Mount or Stand Included?: Stand
Dimensions (H x W x D, inches): 24.9 x 42.2 x 8.8
Weight (pounds): 49.6; 62.8 w/stand and speakers
Price: $2,999
Connections
Inputs: Video: DVI w/HDCP (1), VGA (1), component video (2), S-video (1), composite video (1)
Audio: stereo analog (5), 3.5mm minijack (1)
Outputs:
Video: none
Audio: stereo analog (1)
Additional: RF (1)
Ratings: ViewSonic N3200w LCD HD Monitor
Build Quality: 90
The unit feels solid and stable in the stand
No fan noise here; this TV runs completely silently
Value: 92
Street prices below $2,300, which bests many LCDs at this screen size
A DVI switcher will cost you about $300
Features: 89
Front-panel card readers for CF, SD, MMC, SMC, and MS cards
Limited input set; no HDMI input
Performance: 85
Black level and brightness uniformity affect darker images
A good fit in a brighter room
Ergonomics: 88
The menu system is opaque but frustrating to navigate
The remote lacks backlighting
Overall Rating: 88
If you're looking for a TV for your den, office, or bedroom, the N3200w is a good choice for a good price, as long as you've upgraded to DVI- or HDMI-equipped source components.